2012 Starr Ranch Birdathon
April 28, 2012
Birders: Aidan, Carol, Chris, Conrad, Cooper, Ed, Pete, Sue, and Veronica
140 Species seen/heard (list at bottom)
$15,000+!!! raised in pledges and donations - THANK YOU!!!
Congratulations to Beth ("rufus"), winner of a Starr Ranch T-shirt for the only spot-on guess (140) of the number of species we would see or hear!
You'll soon receive an email with a link for pledge payment with credit card or check OR you can simply multiply your pledge now by 140 and click HERE to fulfill.
For those who pledged a dollar or more and provided a t-shirt style and size you should receive it in about two weeks.
Recap (by Ornithologist Ed Conrad)
I believe the time was 4:57 A.M. and I was already wide awake with a few minutes to spare before my alarm went off, amped and eager to be back at Starr Ranch Sanctuary for the weekend to help with the 2012 Birdathon. Knowing that our goal was to see or hear more than 126 species in one day (our previous total from the 2011 Birdathon was 126), it was imperative that we start off early today in the predawn darkness in order to maximize our chances for finding owls and Poorwills, of which Starr Ranch has plenty. In short order, car headlights snaked down Bell Canyon and both Carol and Sue (two intrepid and punctual friends of Starr Ranch) joined Pete and me for what would turn out to be a full day's worth of birding. After savoring a fresh cup of coffee and ticking off Barn Owl, Great Horned Owl, several Common Poorwills, as well as one early riser Song Sparrow from the Starr Ranch parking lot, the four of us piled into the aptly named Toyota 4Runner and headed down Bell Canyon full of anticipation for what the day would bring us.
As per usual, Starr Ranch was abuzz with the chorus of bird song and we quickly began tallying up species. We lucked out and spotted a juvenile Great Horned Owl perched above its cavity. Although we had already checked off one of these from the parking lot, it was hard not to get excited over such excellent views of this youngster – especially since Pete and I had struck out on this species during the Birdathon in 2011. En route to Preusker Peak (1,752' elev.), Grasshopper, Rufous-crowned, and Black-chinned Sparrows were heard laying claim to their territories; and it seemed as if each time we stopped, several new species would be there to greet us. We were audience to multiple California Thrashers singing from exposed perches; and once atop Preusker, we were treated to a gorgeous sunrise,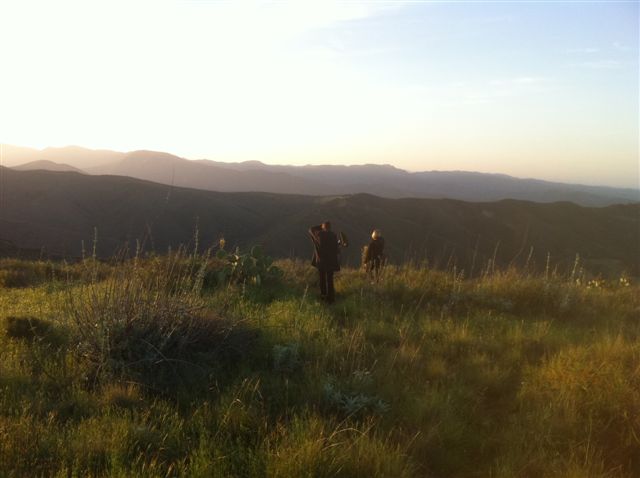 as well as the songs from several Cactus Wrens. We tried in vain for a California Gnatcatcher, and then retraced our path back down to Bell Canyon continuing to check off great species such as Lazuli Bunting and Phainopepla. Amazingly, the owl youngster was still perched above his cavity while both Hooded and Bullock's Orioles flew about high in the sycamores. And yes to those that are curious, we did set up the spotting scope again to enjoy views of this inquisitive youngster!
Our next major stop was Irvine Lake where Pete knew about a pair of nesting Bald Eagles. Although eagles are massive birds, finding these particular eagles from across the reservoir was surprisingly tricky – really! While Pete scanned for the nest from across the reservoir, I couldn't help but be distracted by all the other neat songbirds nearby. Nashville and Wilson's Warblers flitted by as well as a Common Yellowthroat and a Blue Grosbeak providing sparks of splendid color close-by that Sue, Carol, and I enjoyed while Pete persistently worked to find the eagles on the distant shore. Eventually Pete did find the nest and even from such a distance, we could appreciate the size of these incredible raptors – as well as that of their massive nest. Before we left, we were able to find several water birds on the reservoir itself including four species of grebes: Clark's, Western, Eared, and Pied-billed and a single Bonaparte's Gull.
Our next two stops were Irvine Regional Park and Peter's Canyon Reservoir. Our first objective was to locate the bluebird boxes there since presumably it would make finding the Western Bluebirds much easier - it did! We also were delighted to find around 20 male Western Tanagers (undoubtedly migrants) feeding high in the trees. For the uninitiated, the males of this species have an amazing combination of yellow, black, and red feathers fooling you into thinking that you might just be in the tropics. After spotting a Red-crowned Parrot flying away and seeing a male peacock perched on the fence of the Orange County Zoo nearby, it was time for a reality check – we were still in California and not in some distant land (FYI - we counted the parrot on our checklist because they have established wild populations in the Los Angeles region, but not the peacock).
Eventually the growls from our stomachs were becoming too much to bear and we raced to Irvine for food and to meet up with two families who were set to join us for some afternoon birding. By coincidence, it just so happened that I knew the three kids who joined us from Starr Ranch Junior Biologists in 2011 when I was the Starr Ranch Summer Ornithologist! Buoyed by the infusion of youth, not to mention some very delicious food (amongst our group we ate Greek, Chinese, and Thai food), the rest of us adults were once again energized and fueled to find some new birds at San Joaquin Wildlife Sanctuary (home of Sea and Sage Audubon)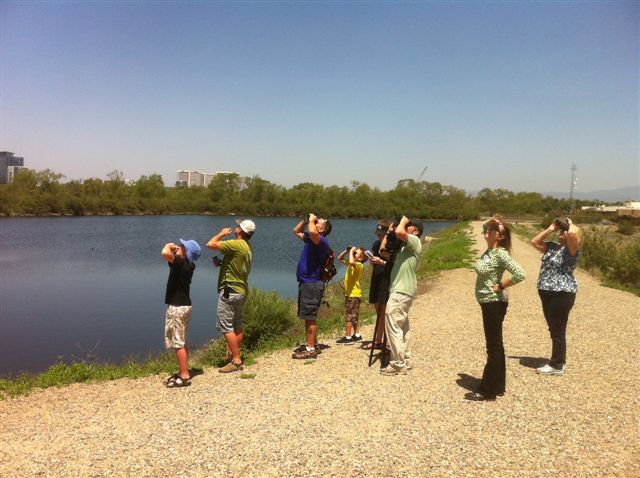 . Immediately, we began checking off new species by scanning the numerous ponds and mudflats. A Wilson's phalarope was definitely a hit amongst our group, entertaining us with its unique habit of spinning in circles on the surface of the water to create a mini-whirlpool which causes food to be lifted from the bottom for it to eat. It was also interesting to find several wide-awake Black-crowned Night-Herons nearby a snoozing Black Skimmer and American White Pelican. And finally, a few in the group were lucky enough to briefly spot a female Wood Duck and her many ducklings (there were 10-15 by some estimates) before they disappeared behind some thick vegetation.

We next caravanned to Upper Newport Bay all the while keeping our three vehicles together through some skillful radio communication between the two boys and Pete. We spotted large numbers of birds out on the mudflats including multiple Marbled Godwits, Willets, and Black-bellied Plovers. A perched White-tailed Kite was a welcome surprise considering we'd missed it at Starr Ranch, but perhaps the biggest surprise of all came as we walked along one of the boardwalks systematically searching an impenetrable thicket of reeds for any signs of open water. When we finally succeeded in finding the outlet stream that the boardwalk crossed over, I clapped my hands several times in an optimistic gesture hoping to get a response from a rail (rails are notorious for responding to claps – try it!). Instead of just simply hearing a rail, we saw one quickly dart out from some short vegetation directly below us as it ran towards taller cover. Admittedly, we only got a glimpse of this Sora (a small species of rail), but due to the serendipitous nature of seeing it, our birding group was beaming with smiles. The grins continued after Carol spotted another great bird – a Common Gallinule – in a tiny pool just 20 meters away from where we spotted the rail while we walked back to our vehicles! At this juncture, our group split and we said our goodbyes to the two families who certainly brought lots of enthusiasm to the group.
Next we visited Bolsa Chica and Heisler Park to add several waterbirds that we were missing from our list. A visit to Bolsa Chica is always rewarding since the sheer numbers of waterbirds out there are simply staggering. For instance, instead of seeing one Elegant Tern, we saw thousands; instead of seeing several Brown Pelicans, we saw close to one hundred. There was plenty of diversity out there too with notable sightings including Dunlin, Sanderling, Least Tern and single observations of a Brant goose and Snowy Plover sitting on a nest. At Heisler Park, we added a new songbird, a Brewer's Blackbird, and spotted several Brandt's Cormorants out on the rocks. Finally, there was also an unidentifiable species of shearwater – our only true pelagic bird of the day – appropriately seen as a speck flying far off over the ocean.
While in traffic on the way back to Starr Ranch, we realized that we were awfully close to reaching 140 species for the day. Our group easily came to the consensus that finishing with a nice round number such as 140 was much more satisfying than ending with 138 species for the day, so we planned a strategy to use the remaining daylight to explore the western periphery of Starr Ranch to see if we couldn't find a Greater Roadrunner and California Gnatcatcher. After Pete navigated us to a section of the ranch where he knew these species to be particularly common, we alternated between walking and listening for birdsong with the car windows open. As luck would have it, I had the misfortune of turning my head at the same moment Sue yelled and pointed at a roadrunner dashing across the road in front of us. In an instant, the roadrunner was gone hidden amongst the dense coastal sage scrub, but the important thing was that our group's birding list went up to 139. As we continued birding, our persistence paid off one last time and we heard the distinctive call notes of a California Gnatcatcher. We returned to the Starr Ranch parking lot around 7:30 pm after 14 adventure-filled hours of birding. Thanks to all of you that supported us and helped make the 2012 Starr Ranch Birdathon a resounding success!
Ed Conrad
A note from Pete: This year we had seven people join us for all or part of the day. We had a lot of fun and I have to say it was probably one of the best days I've ever had birding. Great weather and enthusiastic birding companions had a lot to do with this. But there's nothing like birding with someone who really knows their birds - Ed. He's amazing. And...he's already psyched up for next year's Birdathon! Thanks you fellow birders and a shout out to Ed. And a special thanks to all of you who pledged and donated. It's deeply appreciated.
Species List
| | | |
| --- | --- | --- |
| Pied-billed Grebe | Long-billed Curlew | White-breasted Nuthatch |
| Eared Grebe | Marbled Godwit | Cactus Wren |
| Western Grebe | Sanderling | Bewick's Wren |
| Clark's Grebe | Western Sandpiperr | House Wren |
| Shearwater species | Dowitcher sp. | Marsh Wren |
| American White Pelican | Wilson's Phalarope | Blue-gray Gnatcatcher |
| Brown Pelican | California Gull | California Gnatcatcher |
| Brandt's Cormoront | Ring-billed Gull | Western Bluebird |
| Double-crested Cormoront | Bonaparte's Gull | American Robin |
| Great Blue Heron | Western Gull | Wrentit |
| Great Egret | Caspian Tern | Northern Mockingbird |
| Snowy Egret | Elegant Tern | California Thrasher |
| Green Heron | Forster's Tern | European Starling |
| Black-crowned Night Heron | Least Tern | Cedar Waxwing |
| Canada Goose | Black Skimmer | Phainopepla |
| Brant | Rock Dove | Orange-crowned Warbler |
| Wood Duck | Band-tailed Pigeon | Yellow Warbler |
| Gadwall | Mourning Dove | Black-throated Gray Warbler |
| American Wigeon | Red-crowned Parrot | Nashville Warbler |
| Blue-winged Teal | Greater Roadrunner | Yellow-rumped Warbler |
| Green-winged Teal | Barn Owl | Common Yellowthroat |
| Cinnamon Teal | Great-horned Owl | Wilson's Warbler |
| Mallard | Common Poorwill | Western Tanager |
| Greater Scaup | White-throated Swift | Spotted Towhee |
| Ruddy Duck | Black-chinned Hummingbird | California Towhee |
| Turkey Vulture | Anna's Hummingbird | Rufous-crowned Sparrow |
| Osprey | Costa's Hummingbird | Chipping Sparrow |
| White-tailed Kite | Acorn Woodpecker | Black-chinned Sparrow |
| Cooper's Hawk | Nuttall's Woodpecker | Savannah Sparrow |
| Red-shouldered Hawk | Northern Flicker | Grasshopper Sparrow |
| Red-tailed Hawk | Pacific-slope Flycatcher | Song Sparrow |
| American Kestrel | Black Phoebe | Black-headed Grosbeak |
| California Quail | Say's Phoebe | Blue Grosbeak |
| Bald Eagle | Ash-throated Flycatcher | Lazuli Bunting |
| American Coot | Cassin's Kingbird | Western Meadowlark |
| Common Gallinule | Western Kingbird | Red-winged Blackbird |
| Sora | Bell's Vireo | Brewer's Blackbird |
| Black-bellied Plover | Warbling Vireo | Great-tailed Grackle |
| Snowy Plover | Western Scrub-Jay | Brown-headed Cowbird |
| Semipalmated Plover | American Crow | Hooded Oriole |
| Killdeer | Common Raven | Bullock's Oriole |
| Black-necked Stilt | Tree Swallow | Purple Finch |
| American Avocet | Northern Rough-winged Swallow | House Finch |
| Whimbrel | Cliff Swallow | Lesser Goldfinch |
| Willet | Barn Swallow | American Goldfinch |
| Dunlin | Oak Titmouse | House Sparrow |
| Spotted Sandpiper | Bushtit | |